Affordable technology education for everyone!
I came to learn about online technology education when I clicked on a link one day that said I could start a new tech career in just a few months by joining Skillcrush. I signed up for the email newsletter and began to investigate. It sounded intriguing, but the Skillcrush course plan seemed much too structured and too big of a commitment for my interests.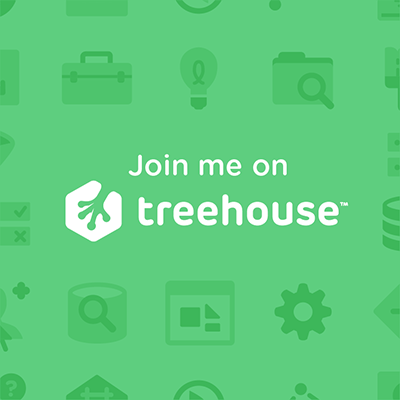 Then, of course, once you start to look at one thing, the internet knows and you start seeing ads for related products. That's when I found Treehouse.
What is Treehouse?
Treehouse is a subscription-based online repository of video courses on all things technology based such as web design and development, UI and UX design, Java, Python, Ruby, Django, WordPress and much more. They even have courses on using photoshop, starting a business, and how to freelance. Their mission is to provide "affordable technology education to people everywhere…". And they do a great job at it.

Click here to start your free trial.
So. Many. Choices.
The Treehouse online library of courses is constantly growing as they add new and more current areas of focus. Each course, or "track" as they call them, is a collection of many short videos with quizzes and assessments in between. The average track length is about 25 minutes, but there are some that are much shorter or much longer.
Play the Field, Find Out What You Like
My first favorite thing about Treehouse is you can dabble. Skip around and see what you like and find out your interests without making a big financial or time commitment to one topic or class. For instance, a few months ago I decided that I need to learn Objective-C… after going through several of the modules, which were VERY well taught, by the way, I realized, I'm no coder. I need to stick to websites and writing!
Treehouse is perfect anyone looking to explore new interests. If you are truly interested in changing your career path or discovering your technology strengths, this is absolutely the way to go.
Here are the tracks I'm following now:

Built in Encouragement and Motivation
My second favorite thing about Treehouse is that on top of managing your courses on your online account, they send you occasional encouraging emails to keep you motivated in your courses. These emails aren't at all spammy or irritating. Quite the contrary. They come in with an uplifting subject line such as "Treehouse loves You!". They remind you where you are in your track and what you should plan to do next. Its great. Its encouraging and motivating. And it keeps you coming back to learn more. Reminder emails also highlight your progress toward a goal or completion of a track.
Learn from your Phone or Computer
My third favorite thing about treehouse is that I can access the courses from my smartphone in addition to viewing them on the computer. This is a big plus for me because I do like to try to make the most of my waiting around time and do more than just play Candy Crush and Words with Friends. You'll find the FREE Treehouse app in the iOS or Android app store.
Click here to start your free trial.
Create Groups – Pay for your People
If you have employees or students who you want to sponsor with a Treehouse account, you can invite them through the website, and Treehouse will charge you for their membership at a discounted price. This is very handy if you have a group or team that you want to empower with some serious learning.
Referral Bonuses
If you aren't interested in sponsoring anyone, simply referring them also provides a benefit. If you enroll 5 people, you get your membership for free! The website provides very easy to use tools to help you to promote the service across Facebook, Twitter, or anywhere you choose to share.

Truly Risk Free – Try Before You Buy
Treehouse offers a short free trial period, but you can also suspend your membership at any time and you will not be billed again until you are ready to resume. You can also cancel at any time. There's no long term commitment, and lots of flexible options. It is one of those rare subscriptions which is truly "no risk".
So what is the hesitation? Click here to start a free subscription of treehouse today!
Upcoming Courses as of November 2016: